Together for The Future of UAE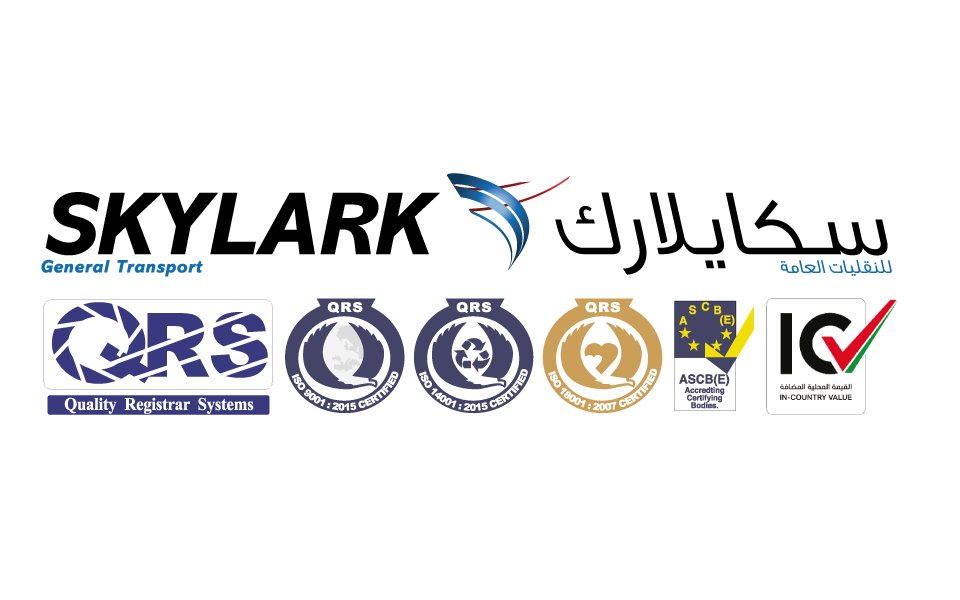 SKYLARK General Transport provides Engineering & Construction services to various market segments and industries. Through a network of experienced personnel distributed in several departments, the company caters for projects of a diverse nature and specializes in projects which require a multi- discipline engineering background.
We SKYLARK General Transport is established in Abu Dhabi, U.A.E since 2012 specializing in: Main Roads, Streets, and related works Contracting – Controlled Demolition for Multi storey buildings – Earth works, Excavation & Backfilling, Clearing and Grading – Concrete Cutting and Coring – Gunite works – Backfilling and Quarry material supply
SKYLARK General Transport have earned In last few years a name as one of the most dependable Road works, Demolition & Earth works Company for having carried out works at various Sites in minimum time minimum cost and nil damages.
SKYLARK General Transport work force manpower are suitably qualified, highly experienced and trained
SKYLARK General Transport have enjoyed and plan consistent growth and have built up an enviable reputation for the quality of our services and excellent relationship with our customers
Our philosophy at SKYLARK General Transport begins with commitment, this commitment is simple yet cruicial in the overall success of a project. It contains the completion of our projects on time and on budget, with quality as the utmost concern. SKYLARK General Transport provides best possible supervision, Cost effective budgeting and especially high quality control standards
SKYLARK General Transport will continue to expand its business in U.A.E through its latest equipment's and professional staff.
MISSION
SKYLARK General Transport Aim to Provide Cost Effective, Technically Practicable engineering solution while Optimizing Financial Performance and Stakeholders Expectations and to serve our clients, by through excellent processes management, developing cheerful, committed, efficient , enriched professionals thus creating prosperous organization
VISION
SKYLARK General Transport will emerge Commitment with our Core values of quality. commitment & excellent process management will continue to lead our journey of excellence & success.
To complete Projects on budget, on-time and meeting all Quality standards and Safety requirements
Manager's Forward
In this scope of work there is an essential need to ensure a continual and consistent high quality of service and implementation. Therefore, it is essential that the company maintains the whole spectrum of our activities operations. It's the Company's Quality objective to always meet the detailed requirements of our clients
Our Quality Assurance Department is involved in developing, evaluating and implementing effective Quality Assurance activities. Our highly motivated team is also involved in utilizing, monitor, and evaluate problems while constantly improving core processes. The aim is to focus on every job, function and department for the purposes of growth and development of the company
We also aim to achieve international standards in all our work by virtue of our commitment to getting certified and of applying international quality standards in all aspects of operations.
KEY MANAGEMENT
Eng. Khaled Intabli
Bsc in Civil Engineering / Owner ǀ Managing Director
He completed his Bachelor of Civil Engineering at Tishreen University, Latakia, Syria in 1983
CORE VALUES
We are loyal to our company and promote its reputation
We commit to our core values and principles
We make decisions that support our organization's best interest
We try to exceed customers' expectations at all times
We try to achieve highest standards in our work
We listen to our clients to get their needs right from the first time
We seek new opportunities to add value to the organization
We are open to new ideas and continuously learn from each other
We are focused on progress and promote growth and development
We conduct all business with the highest standards of honesty and fairness; we can be trusted
Safety of our employees and sub contractors is on first priority
MANPOWER
SKYLARK benefits from a team of qualified and experienced employees who have a proven track record of successfully executing projects that precisely and fully comply with each client's / Contractor's requirements
As a company, we recognize that our employees are the key to our success. As such, we see them as company assets that must be treated with the greatest care and attention. We are committed to ensuring that all employees benefit from strong leadership; clear policies and procedures, and work programs that are appropriately planned, implemented and monitored. Where applicable, we offer specialized training programs for employees in order to support specific areas of career growth and professional development
MACHINERY
SKYLARK is well equipped with basic and necessary machine, plant and vehicle. As such, excavators, Shovels, Trailers, pickups, Bulldozers, water tanker, grader, Rollers, JCB, bobcats, Saw cut and coring machines and other yard equipment.
SKYLARK could provide the best and most qualified resources in the construction industry and could provide significant value to project that require value engineering and complex problem solving.
QUALITY, HEALTH, SAFETY & ENVIRONMENT
SKYLARK General Transport commitment to provide quality services at all the time, to ensure health & safety of everyone and to protect the environment.
Preventing ill health, incidents and other hazards within company`s sites.
SKYLARK General Transport follows QHSE manual which was developed after studying procedures and methodologies of world renowned construction companies.
CAPABILITIES & EXPERIENCE
SKYLARK General Transport has established lasting relationship with both clients and customers based on professionalism and mutual trust through successful projects.
SKYLARK General Transport plans to extend its activities